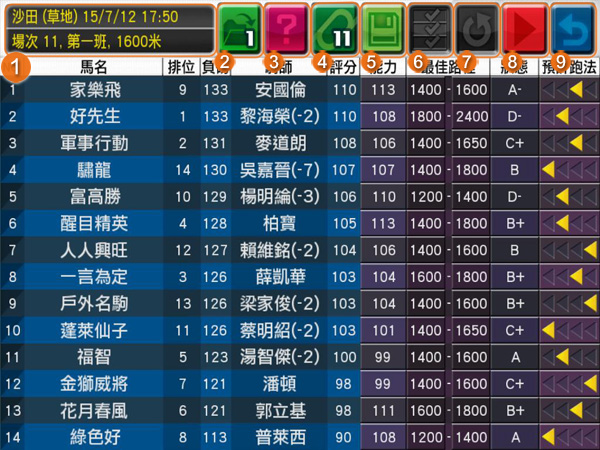 1. Race Information
Show you the latest Racing information, include racecourse, date, start time, race no., class and distance.
2. Today Tips / Your Parameters / Facebook Friend List
Today Tips
- Select other Experts Recommendations or open your own save values.
Your Parameters
- Open or delete the save parameters.
Facebook Friend List

- You can register or login the Race Simulator account at here. If you input your Facebook login email as the login name, your Facebook friends who also registered in Race Simulator will be auto add into the Facebook Friend list of this program. And also can receive the sharing parameters of your friends.
(For iOS and Android version only)
3. Help
Using this App and learn more Horse Racing Terms.
4. Race
Select other Race.
5. Save
Save the current value to "Today Tips" => "User Save".
6. Select All
Select all the value in the same column.
7. Undo
Back to last step.
8. Run
Play the Race now!
9. Back
Back to last Directory.